What is Invoice GAP insurance?
Invoice GAP insurance is the most commonly purchased type of GAP insurance in the UK today (if not only because it's usually the highest level of cover offered by Motor Dealers). It's a combination of both Finance GAP and Invoice GAP, thereby providing the best of both cover types.
In the event of your vehicle being declared a Total Loss (written off) through accident, fire, theft, or flood, Invoice GAP insurance aims to pay the difference between your Motor Insurance payout and THE GREATER OF either:
The amount (if any) outstanding on finance at the time of claim EXCLUDING any Negative Equity brought forward from a previous vehicle (unless the optional "Negative Equity Cover" was purchased), OR
The ORIGINAL PURCHASE PRICE that you paid for your vehicle first time around.
Am I Eligible For Invoice GAP insurance
You can buy Invoice GAP insurance to cover a New or Used vehicle that:
Is less than five (5) years old.
You took ownership/delivery of within the last 365 days (or have not yet taken delivery of).
You purchased (or are purchasing) from a Motor Dealer or, Private Seller.
Is used for social, domestic, pleasure, commuting and some business uses (see below)
Was bought for no more than £150,000
Was bought cash outright, personal loan (secured or not), or financed by way of a HP, PCP or Conditional Finance Agreement.
You can NOT buy Invoice GAP insurance for a vehicle that:
Is more than five (5) years old.
You took ownership/delivery of more than 365 days ago.
Was bought for more than £150,000
Is used for/in any sort of competitions or rallies, hire and/or reward, racing, pace making, speed testing or reliability trials, by a driving school, or as a taxi.
Is not listed in Glass's Guide,
Is a kit car, or invalid carriage
Is used solely for delivery or courier purposes
Is a commercial vehicle of more than 3500kg gross weight.
Is an American, Australian or Canadian vehicle (unless built for the UK market)
Is the subject of a Contract/Lease Hire Agreement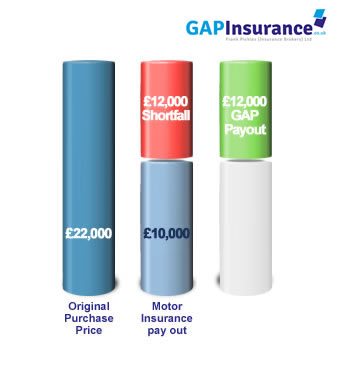 How does Invoice GAP Insurance work?
In the event of your vehicle being declared a Total Loss (aka "written off") as a result of an accident, fire or theft, your comprehensive Motor Insurance policy would normally only pay out the market value of the vehicle at the time of loss.
Now, imagine that you'd bought the vehicle, two years ago for £22k and imagine that the current Market Value of the vehicle is only £10k.
If your Motor Insurance policy only pays you £10k, you're going to be able to only buy a vehicle of the same age, mileage and condition as the one that was written off at the time it was written off.
Invoice GAP Insurance however, would in this example, pay the £12k difference between the Motor Insurance payout and the £22k you originally bought the vehicle for, or (if higher) the difference between your Motor Insurance payout and the amount outstanding on finance at the time of loss.
Key Features of Invoice GAP Insurance
A combination of Finance and Invoice GAP Insurance - Covering up to the greater of either the outstanding finance at the time of claim or the original invoice price
Available for Cars, Light Vans & some Motorhomes, up to 5 years old, purchased within the last 365 days from an authorised dealer or finance house.
NO right to reduce the GAP Insurance payout if your Motor Insurance policy pays out less than the Market Value of your vehicle at the time of loss.
DOES NOT exclude costs such as Warranties, Registration Fees, Insurance Premiums or fuel & paintwork protection applications.
Ability to cancel the policy at any time and receive a daily pro-rata refund of unused premium (a cancellation fee may apply)
CASH payout to you rather than to a nominated dealer, leaving you free to choose the provider of your replacement vehicle
FREE option to defer the start date of the policy by up to 12 months from the date the vehicle was first registered.
Available for Cars or Light Vans less than 5 years old, bought for up to £150,000 within the last 365 days.
OPTION to include cover for up to £2,000 of negative equity brought forward from your previous vehicle.
Underwritten by UK General Insurance Limited, on behalf of Great Lakes Insurance SE.
Pays up to £250 towards the excess on your Comprehensive Motor Insurance policy.
FREE transfer of any unused premium on to a new policy on a replacement vehicle
NO right to revalue the purchase price of your vehicle at the time you bought it.
Policy durations of up to 5 years available.
Claim Limits of up to £100,000 available.
FREE policy amendments.
What Claim Limit Do I Need?
The most frequently asked question... The honest answer, is that it very much depends how much your vehicle is going to depreciate by over the duration of the Invoice GAP Insurance policy.
Guess!
Considering that nobody knows for sure how much your vehicle is going to depreciate, it's a little bit of guess work. A common perception is that the average vehicle will depreciate by between 40% and 70% over a three year period; and indeed lots do - it's not a bad starting point for selecting a Claim Limit.
The issue with this perception though, is that it's never a steady rate of depreciation. Vehicles depreciate faster (a greater %'age) in their earlier years (in terms of the age of the vehicle) than they do in their later years. So, whilst your vehicle might well only depreciate by say 50% over a 3 year duration, it could well be that perhaps 30% (or more) of that, was in the first year alone!
When choosing a Claim Limit for any GAP Insurance policy, you have to try to predict the potential depreciation over the entire duration of the policy. If, for example, for a £15,000 vehicle you chose a 3 year policy with a Claim Limit of £5,000 (33%), this may well be sufficient for the first year, but with the potential for the vehicle to depreciate by up to 50%, 70% or even more, a £5,000 Claim Limit would likely be woefully inadequate as you approach the end of the policy.
Still guessing?
But this is all still guess work. We want to flip it on it's head a little. Read on...
10 Of Our Invoice GAP Insurance Claims - What claim limit would you have chosen?
What we're showing you below are details of actual claims that have paid out on some of our Invoice GAP Insurance policies, along with the vehicle details including the original purchase price and the length of ownership.
From this, we can calculate the rate of depreciation as a cash value per month and also reflect the total depreciation over the same duration as a percentage of the original purchase price.
You might be surprised at how well (little depreciation) some vehicles performed and how bad (considerable depreciation) others did.
It makes for some very interesting reading, but that aside, whilst it doesn't entirely remove the element of guess work for you, we're confident that being able to see the vehicle types, values and durations of ownership alongside the payout/depreciation figures, will surely be of great help in you choosing a claim limit that you feel most comfortable with.
BMW 1 series
Vehicle Purchased
Invoice Price
GAP Claim
GAP Payout
December 2015
£24,500
April 2018
£7,639
Length of ownership:

28 Months

Rate Of Depreciation:

An average of £272.80 per month

Total Depreciation:

31.18% of its original Invoice Price during the 28 months it was owned.

Policy Cost:

The policy cost £111.83 (just 1.46% of the amount the policy paid out.)
Hyundai i20
Vehicle Purchased
Invoice Price
GAP Claim
GAP Payout
January 2015
£7,995
February 2018
£2,300
Length of ownership:

37 Months

Rate Of Depreciation:

An average of £62.17 per month

Total Depreciation:

28.77% of its original Invoice Price during the 37 months it was owned.

Policy Cost:

The policy cost £89.99 (just 3.91% of the amount the policy paid out.)
Mazda 2
Vehicle Purchased
Invoice Price
GAP Claim
GAP Payout
October 2014
£11,000
January 2018
£4,269
Length of ownership:

39 Months

Rate Of Depreciation:

An average of £109.46 per month

Total Depreciation:

38.81% of its original Invoice Price during the 39 months it was owned.

Policy Cost:

The policy cost £66.91 (just 1.57% of the amount the policy paid out.)
Honda Civic
Vehicle Purchased
Invoice Price
GAP Claim
GAP Payout
February 2015
£3,795
January 2018
£924
Length of ownership:

35 Months

Rate Of Depreciation:

An average of £26.40 per month

Total Depreciation:

24.35% of its original Invoice Price during the 35 months it was owned.

Policy Cost:

The policy cost £96.02 (just 10.39% of the amount the policy paid out.)
VOLKSWAGEN Beetle
Vehicle Purchased
Invoice Price
GAP Claim
GAP Payout
April 2011
£7,995
January 2018
£5,126
Length of ownership:

81 Months

Rate Of Depreciation:

An average of £63.28 per month

Total Depreciation:

64.11% of its original Invoice Price during the 81 months it was owned.

Policy Cost:

The policy cost £161.04 (just 3.14% of the amount the policy paid out.)
Alfa Romeo Giulietta
Vehicle Purchased
Invoice Price
GAP Claim
GAP Payout
November 2017
£10,395
December 2017
£545
Length of ownership:

1 Months

Rate Of Depreciation:

An average of £545.00 per month

Total Depreciation:

5.24% of its original Invoice Price during the 1 months it was owned.

Policy Cost:

The policy cost £103.61 (just 19.01% of the amount the policy paid out.)
Fiat 500
Vehicle Purchased
Invoice Price
GAP Claim
GAP Payout
April 2017
£14,145
December 2017
£1,167
Length of ownership:

8 Months

Rate Of Depreciation:

An average of £145.84 per month

Total Depreciation:

8.25% of its original Invoice Price during the 8 months it was owned.

Policy Cost:

The policy cost £69.12 (just 5.92% of the amount the policy paid out.)
Citroen DS3
Vehicle Purchased
Invoice Price
GAP Claim
GAP Payout
June 2015
£8,999
December 2017
£2,654
Length of ownership:

30 Months

Rate Of Depreciation:

An average of £88.47 per month

Total Depreciation:

29.49% of its original Invoice Price during the 30 months it was owned.

Policy Cost:

The policy cost £98.25 (just 3.70% of the amount the policy paid out.)
Audi TT Coup
Vehicle Purchased
Invoice Price
GAP Claim
GAP Payout
April 2014
£11,000
November 2017
£4,415
Length of ownership:

43 Months

Rate Of Depreciation:

An average of £102.67 per month

Total Depreciation:

40.14% of its original Invoice Price during the 43 months it was owned.

Policy Cost:

The policy cost £96.00 (just 2.17% of the amount the policy paid out.)
Ford Fiesta
Vehicle Purchased
Invoice Price
GAP Claim
GAP Payout
July 2016
£3,200
November 2017
£1,220
Length of ownership:

16 Months

Rate Of Depreciation:

An average of £76.25 per month

Total Depreciation:

38.13% of its original Invoice Price during the 16 months it was owned.

Policy Cost:

The policy cost £57.64 (just 4.72% of the amount the policy paid out.)