GAP insurance policies underwritten by an A-Rated Insurer.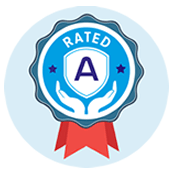 Policies underwritten by an A-rated insurer
Our GAP insurance policies are underwritten at Lloyd's by Arch Managing Agency Limited. Lloyd's being a UK entity rated A, AA- and A+ by three of the world's leading insurance rating agencies.
With FIVE unrated, offshore underwriters of GAP insurance having gone bust in the last few years, it's now more important than ever to ensure you choose a policy backed by financial resources sufficient enough to ensure that the policy will be there when you need it most.
Aren't unrated insurers covered by the FSCS?
Yes and companies that offer policies from unrated insurers will make a song and dance about this. However whilst the Financial Services Compensation Scheme (FSCS) will cover you for up to 90% of any claim amount if your car is written off and you need to make a claim before the affairs of the original insurer are wrapped up, what they usually fail to tell you is that if the unrated insurer behind your policy goes bust and no other insurer steps in to "buy" your policy from the liquidators (thereby permitting your cover to continue), steps will be taken to cancel your policy and in such circumstances the FSCS is then only good for refunding you up to 90% of what you originally paid for your policy.
This of course then leaves you without GAP insurance cover and, probably too late to buy GAP insurance cover from any other provider.
Whilst a UK-based A-Rated insurer can attract a little higher premium for the policy, the risks of buying a policy from an unrated, offshore insurer are, in our opinion, simply too great.