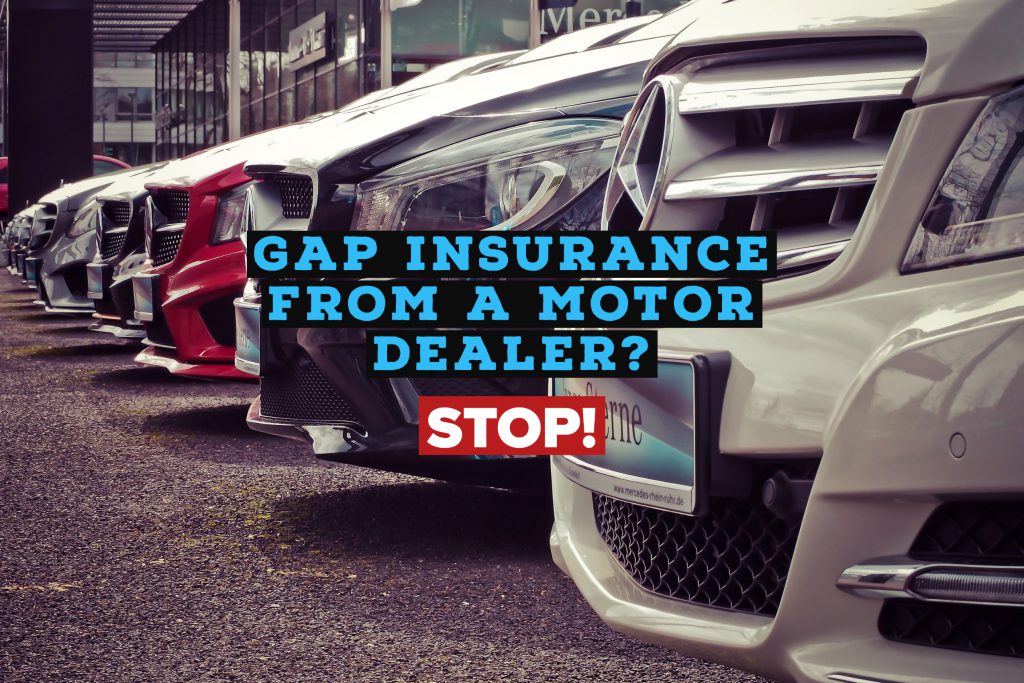 One of the most stressful things about buying a car from a dealership is knowing that the salesperson is going to try to sell you every add-on under the sun, including paint protection, scratch & dent insurance, tyre & alloy wheel cover, a service plan and, of course, GAP insurance. By the time you emerge from the showroom, it's cost you an extra £2,000 before you know it!
With a little online research, you can purchase equivalent or better products and services from independent specialists and save yourself a fortune, without compromising on quality.
Did you know that motor dealers *must* inform you that alternative providers of GAP insurance are available?
The Financial Conduct Authority (FCA) authorises and regulates all GAP insurance providers in the UK, whether they're car dealerships or internet companies.
In 2015, the FCA issued motor dealers with mandatory instructions when selling GAP insurance:
(1) they are not permitted to discuss GAP insurance with you and sell it to you on the same day, there must be at least two clear days to allow you to think about whether you want to take out the cover;
(2) they must make it clear that GAP insurance cover is not mandatory; and
(3) they must inform you that other GAP insurance providers are available.
Dealers who fail to comply with the above are in breach of the FCA regulations and risk being struck off.
Are dealer policies better?
Some customers may feel more confident in buying a branded policy from the motor dealer – they're told it's better to keep things "under one roof". In reality, these policies are farmed out to third-party providers who have paid to use the brand name. The claims are not handled by the dealer or manufacturer, and even the simplest of queries are diverted, often to the wrong place by dealership staff who don't know who their policy providers are, and have – incredibly – given the number of an online competitor to their own customers!
Why are dealer policies so expensive?
It's almost entirely down to profit. We've already established that dealer policies actually have little or nothing to do with the dealership or the manufacturer. Their policy terms and conditions are broadly in line with equivalent cover from online providers, yet the motor dealers take huge profits from these policies and pay their sales staff high commissions. Dealer prices are often twice or three times as much as ours.
When faced with a quote from GAPinsurance.co.uk, some motor dealers have been known to slash their prices by more than half to match ours. Given that their policies have no material advantage (if any), over ours, why were they charging so much, other than trying to rip off their customers in the first place?
Another dealership trick is to wrap up expensive GAP insurance policies into complex finance deals, or combine it with the part-exchange allowance on your trade-in. You may not have to sell your old car to the dealer at all, of course – online car-selling comparison sites, such as Jamjar.com are well worth checking out for a better deal.
What should I look out for?
Some motor dealers warn customers off taking out GAP insurance online, and in some respects they're right to do so. Whilst all UK providers are regulated by the FCA, a growing number use unrated underwriters, based usually in Gibraltar or Malta; six such insurers have gone bust since 2016 alone with some policyholders left stranded without cover as a result, so we'd recommend steering clear of these.
We have been providing independent GAP insurance since 2004, and have only ever used A-rated insurers. For peace of mind, our 5-star independently rated policies are currently underwritten by Arch Managing Agency Limited at UK-based, A-rated Lloyd's of London.
How do our GAP insurance prices compare with those of motor dealers?
GAP insurance from a specialist broker like ourselves is almost always cheaper – sometimes considerably so. Take an Audi dealer's GAP insurance policy, for example. In comparison, our customers have saved an average of £271 by buying from us, whilst the biggest saving we've documented was a massive £1,663! See below for more:
Table showing the average and largest savings our customers have achieved by buying GAP insurance from GAPinsurance.co.uk instead of their motor dealer.
---
Invoice GAP insurance policies are available for most new and used vehicles up to eight years old, purchased within the last 3 months. Replacement GAP insurance policies are available for most brand-new vehicles purchased within the last 30 days. Contract Hire GAP insurance policies are available for vehicles with 12 months or more remaining on the lease. Not all vehicles are eligible for GAP insurance. Please see a list of excluded vehicles here. Other restrictions apply.
---
OTHER TYPES OF GAP INSURANCE
In addition to Invoice, Replacement and Contract Hire GAP insurance, we can also provide Top-Up GAP insurance, which is a 12-month (renewable) policy, suitable for vehicles up to 8 years old, usually purchased more than 3 months ago from a motor dealer or from a private seller. Top-Up GAP insurance is not available for leased vehicles.
---
If you'd like to discuss your GAP insurance requirements with us, please don't hesitate to either get a quote online at GAPinsurance.co.uk or get in touch:
01484 490095
support@GAPinsurance.co.uk
---