Avoid "Market Value" Clauses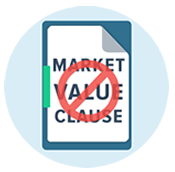 If your car is written off and your motor insurer pays you less than what the GAP insurer believes your car to be worth, a Market Value clause within the GAP insurance policy terms would allow the GAP insurer to avoid paying you the amount by which they believe your motor insurer to have underpaid.
Our policies don't have Market Value clauses. We believe GAP insurance policies that incorporate Market Value clauses should be avoided at all costs.
Find out more here: GAPinsurance.co.uk/no-market-value-clauses.asp