Gap Insurance Sale Extended to March 31st.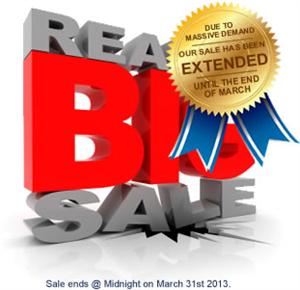 Tomorrow and in the coming weeks, some of you will be lucky enough to be getting a brand new car and for those of you that are, we hope you're ready for being asked to purchase a whole range of additional products and services that the salesperson will do their utmost to convince you that you need.
We all know that March is a busy time for Car Dealer's so why not save the Salesperson a little of their time and effort and tell them they don't need to discuss Gap Insurance with you because you've already bought it from us?
There's never been a better time to do so because due to unprecedented demand, our "Really Big Sale", with savings of between 20% and 60% has now been extended until the end of March.
And that's not all…
Until the end of March if you Like us on Facebook after buying a Gap Insurance policy from us, we'll give you back £5!
Grab a Gap Insurance bargain before the end of March!
Get a quote online at
GAPinsurance.co.uk
or call us on 01484 490095

Replacement Gap Insurance: Ideal For Brand New Cars.
Unlikely to be available from your Motor Dealer, Replacement Gap Insurance for a Brand New vehicle is the highest level of Gap Insurance cover available.
Covering the difference between your Motor Insurance payout and the equivalent cost of replacing the vehicle with a new one – even if the new vehicle costs more than you originally paid – you'd expect the premium to be vastly higher than a standard Invoice Gap Insurance policy and you'd be wrong!
In almost all cases we can supply you with a Replacement Gap Insurance policy, for less than the dealer will charge you for Invoice Gap Insurance.
Protect the value in your car today!
Get a quote online at
GAPinsurance.co.uk
or call us on 01484 490095

70% Depreciation On A Fiesta
As discussed in last month's email, we're now publishing details of the claims on our Gap Insurance policies. Last month we featured a Vauxhall Insignia that lost 61.15% over the 36 months it was owned.
Today, we're looking at a Ford Fiesta
Purchased: June 2009
Invoice Price: £13,100.00
Gap Insurance Claim: December 2012
Gap Insurance Payout: £9,072
Owned for 42 months, this Fiesta lost an average of £216 per month to an eyebrow-raising total of £9,072, or putting it another way, it lost 69.25% of its original purchase price.
Compare the £9,072 payout with the £272.30 the policy was bought for and it's a pretty conclusive argument against those that claim Gap Insurance is a waste of money.
What's more, the same policy today is considerably cheaper:
Type: Replacement Gap Insurance
Duration: 4 Years
Claim Limit: £10,000
Vehicle Invoice Price: £13,100
Policy Price Today: £122.02
See other Replacement Gap Insurance Claim Details here.
Don't suffer the depreciation loss alone.
Get a quote online at
GAPinsurance.co.uk
or call us on 01484 490095

Thank you for reading this email and if you do need assistance with Gap Insurance, please do get in touch.
Until next time!
From all the team
W: GAPinsurance.co.uk
T: 01484 490095
E: support@gapinsurance.co.uk