Cash Payouts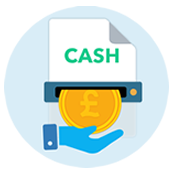 If you make a claim on one of our GAP insurance policies, once any finance company with an interest in the vehicle (if applicable) has been paid the amount due to them, the remaining funds are paid directly to the policyholder.
If you didn't finance the vehicle (or the finance had already been cleared by the time of the claim), the whole sum is paid directly to you.
This payment is made with no strings. You can use it against the cost of buying any car from any dealership of your choice. Or not… it's your money – do with it as you please!
Not all GAP insurance policies are the same though. Some providers will force you to have them source your next car, others will reduce their payout if you're not planning on using it to replace your vehicle, whilst others will pay out in the form of a credit to nominated motor dealer.
Find out more here: GAPinsurance.co.uk/cash-payouts.asp